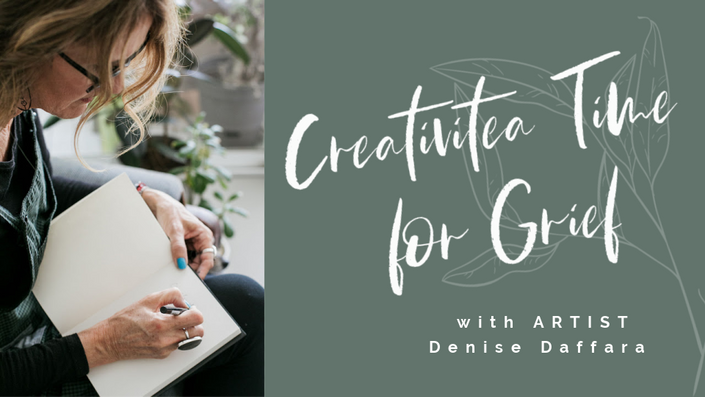 Creativitea Time for Grief
connection, gentle guidance, transformative tools

This course is currently closed for enrolment

contact Denise at www.denisedaffara.com.au to enquire about it if desired.
A workshop/course that encompasses journalling, circling and sharing. Using our creativity in very accessible ways makes an opportunity for us to gently heal a part that is within our reach.
Creativity can be such a wonderful bridge… from the place of pain and not understanding… to a new place that you create with your own hands.
This course is offering to accompany you on your own personal journey, exploring what it means to you to be grieving…. and explore some creative ways to be with whatever wants to arise in you, to be known, understood… or simply acknowledged
THINGS YOU'LL FIND IN THIS OFFERING:
Art journaling
Create an ART JOURNAL with a beautiful ritual and gentle process to make a welcoming place for you to go/be.
Make a welcome page using collage (no art experience needed)
A selection of art journal page inspiration and ideas - with demonstration videos
New journal page lessons will be created by Denise and shared during the course to respond to the hearts/needs of the group
Workshops
Holding Space for Grief using Colour (a workshop) - creating a handbound book to hold, tend and honour a particular loss.
Paper Doll Making (a mini workshop) - express your feelings without the need for works with this beautiful visual aid
A Poetry Writing Workshop for Grief & Loss with Phillip Daffara (Foresight Practitioner, Architect, Poet) live on zoom
Supportive Sharing from Lived Experience
Invitations to join 4 Live circle/call/gatherings via zoom, to hear/see & learn from each other (these will be recorded) these will be Saturday mornings 8.30am Brisbane AEST
A conversation with Kira Fahey - introduction to the New Zealand Maori funeral ritual - The Tangi
Interview with Lisa Stammberger - Pathway to Peace Holistic Counselling
Q & A call with Tricia Thompson (Registered Nurse) about end of life care and any questions you might have around this sensitive topic
Little dd illustrated story of 'Going Home to Be With Mum' by Denise Daffara - an inner child story of connection and healing
Video recordings of 3 differing grief stories - (Sister, Mother, Father) Denise Daffara
A private group on facebook for the participants of the course - optional

The content of this course is circular in nature - rather than linear … you will be able to dip in to this as a resource… and work through the pieces in any order that makes sense for you…
I would recommend beginning with the creation of a journal to hold whatever you're ready to put inside it… giving ourselves a 'container' for something such as grief, is a healing act in and of itself… then to be able to be welcomed back into that space again and again… that is the healing journey.

Why am I doing this you may wonder . . .
Experiencing a variety of losses that have taken me into some deep dark and healing places is what brings me to create this offering.
I have become a way finder… seeking out a way to resolve the inner conflict that each life and/or death experience offered for my curiosity and path.
This course holds a bundle of these stories, examples and journal creations for each one of these life altering experiences,
it is my intention to share this work for the purpose of offering practial tools to serve the individual healing journey and our collective grief.
Additional pieces will be created in response to the actual needs of the particpants, making this a unique co-creative container.
Creativity has been a gentle yet powerful and transformative companion all through my life in a wide variety of ways.
I offer you my gentle guidance on holding space for grief and loss, as we will gather with others who come to our 'tea table'.
I wonder if you would benefit from such an offering?
I believe that gentle nurturing with an invitation to use creativity as your own self healing modaility can be an extremely transformative and helpful resource.
love,
Denise



I do not claim to have all the answers, I am ready willing and able to sit with you and your questions and discomfort and let us be curious together about how we can be with our collective and personal grief, in kind, self responsible, self compassionate, transformative, healing, nurturing and most definitely, creative ways.
---

What if you don't have art supplies and you don't feel like you're very creative in the 'arty' sense?
If you feel a resonance with what you have read here, and you are feeling grief or loss, this course will have plenty to support you.
Collage is the most accessible form of expression and you can scribble and write in a journal.. and glue images over the top if you wish to keep it private, and or… surround your writing with images.
The Paper Doll making is another activity that you don't need art supplies … just to be able to print them and cut them out you'll be able to get started.
Some tracing paper and pencil will give you access to amazing drawings to go into your journal… (see examples above)
A packet of crayons can go a long way to giving you a chance to play on the page… your inner child will show you how to play with these
If you heart is calling you to join us for Creativitea Time… listen.
---
What if you don't want to join the facebook group and you want to do this course in private?
That is completely understandable, and it is your right and my encouragement would be, to do what most takes care of you.
All of the content is offered as a choice, and no pressure of production is intended or expectation of completion by a certain time.
What additional content will likely be added?
I will be guided on what new content to add in response to the participants who are gathered.

Additional journal page demonstration videos, adding figures to our page, other reference materials
a guided visualisation recording . .
---
Our zoom gatherings will be on Saturday mornings AEST Brisbane : 8.30am (Friday afternoon/eve in USA)
if you are unable to attend live, they will be recorded* and shared ONLY within the group, and for a limited time
Saturday 13th February 2021 : 8.30am AEST / sharing circle
Saturday 20th February 2021 : 8.30am AEST / Guest, Tricia Thompson RN Q&A
Saturday 27th February 2021 : 8.30am AEST

/ Poetry Workshop with Phillip Daffara

Saturday 6 th March 2021 : 8.30am AEST / sharing circle
Please know, attending zoom calls is optional, do what feels best for you on the day.
I honour and respect and deeply understand that sometimes it is too much to take ourselves to a group call, and the most compassionate and wise thing is to know when you need tend your needs and mend in your own quiet space and time.
* this kind of gathering and being present with eachother was only ever done in circle or in gatherings in person in times gone by… where 2-3 were gathered… so to have 'the eye of the camera' on us is new and sometimes disconcerting, on the upside.. it brings souls from different parts of the world together that otherwise… may never have met. xo


---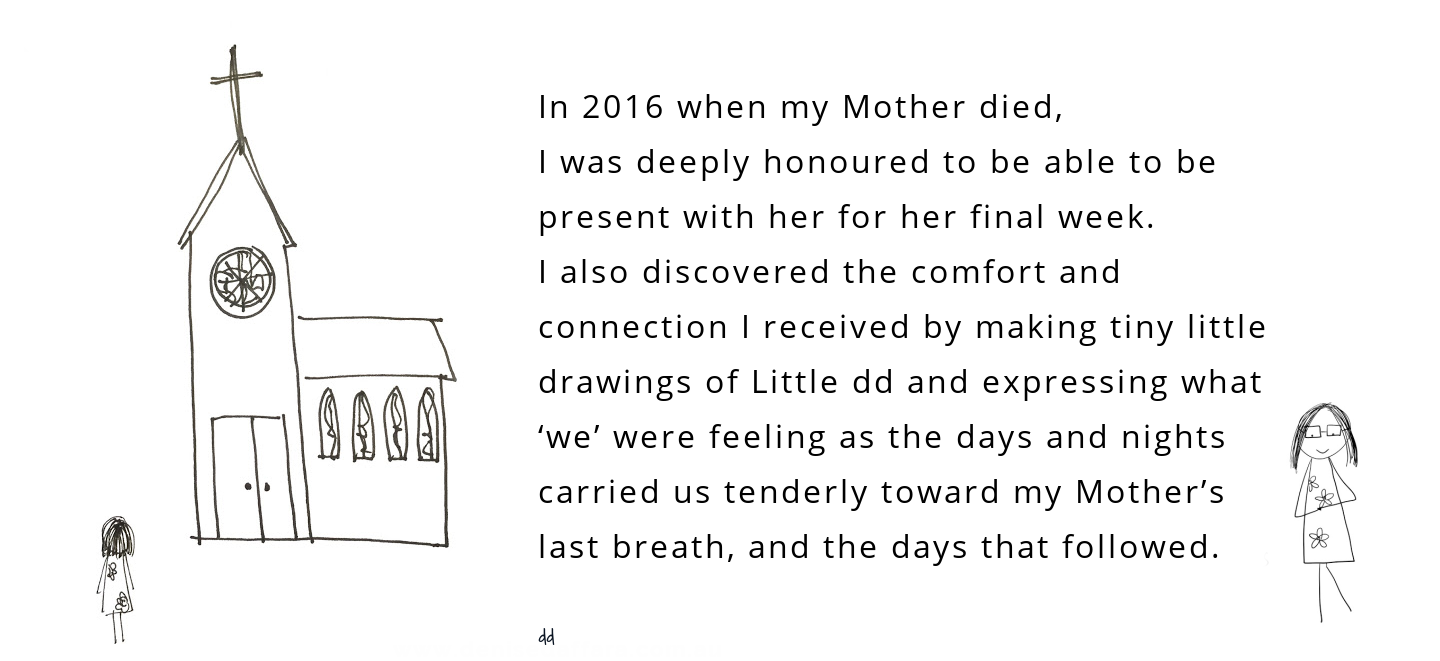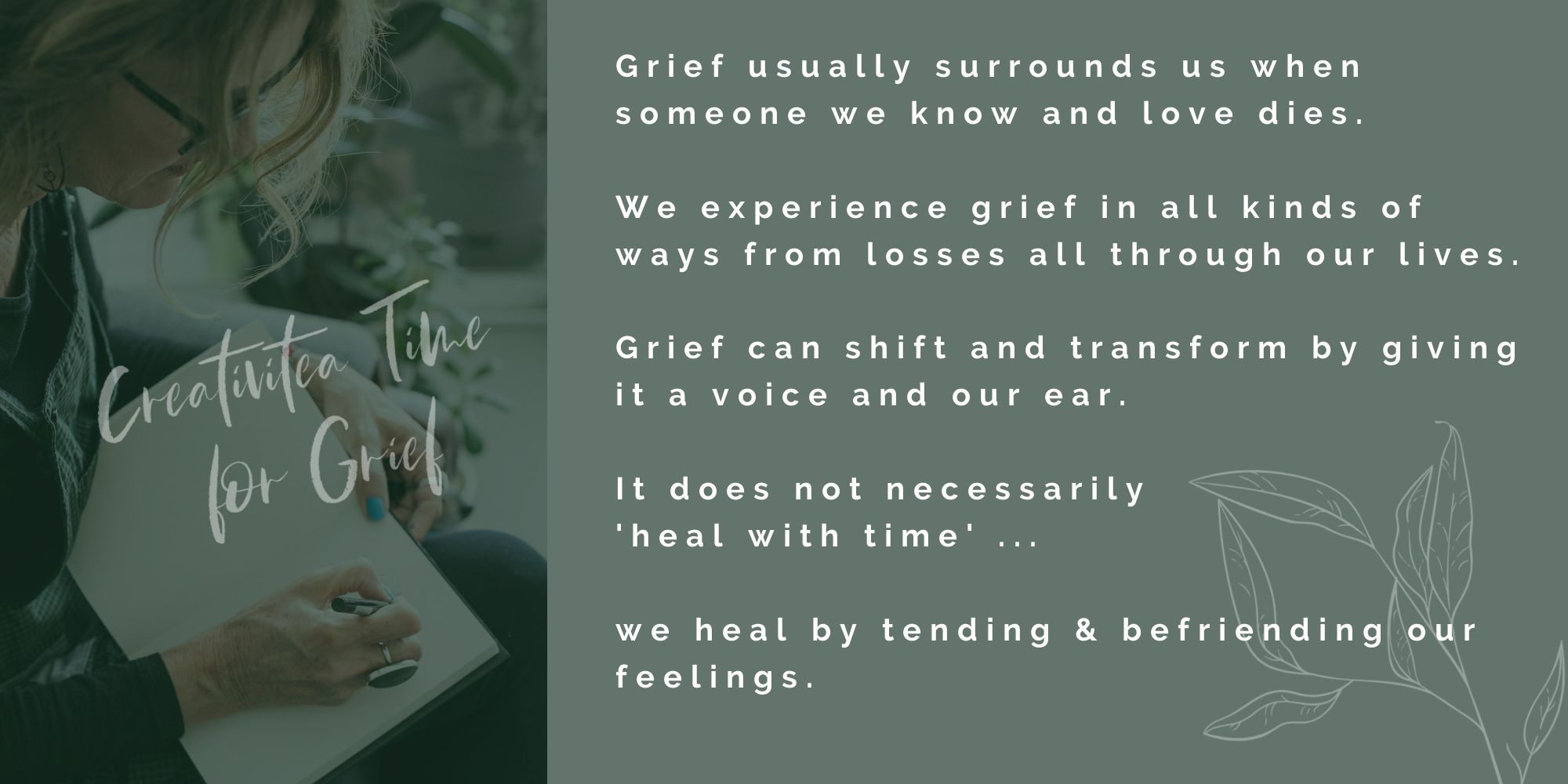 from the book BROKEN OPEN - How Difficult Times Can Help Us Grow
by Elizabeth Lesser
"When I teach workshops on death and dying, I break the study of death down into three simple rules."
"The first is that death is not something that happens only once at the end of life; from the moment we are born we are dying every day in all sorts of physical, emotional, and spiritual ways."
"The next rule for all of us dying people is that grief is good - that it is a sign of how well we have loved."
"And the last thing to know about death is that the death of the body is the start of an adventure. . . ."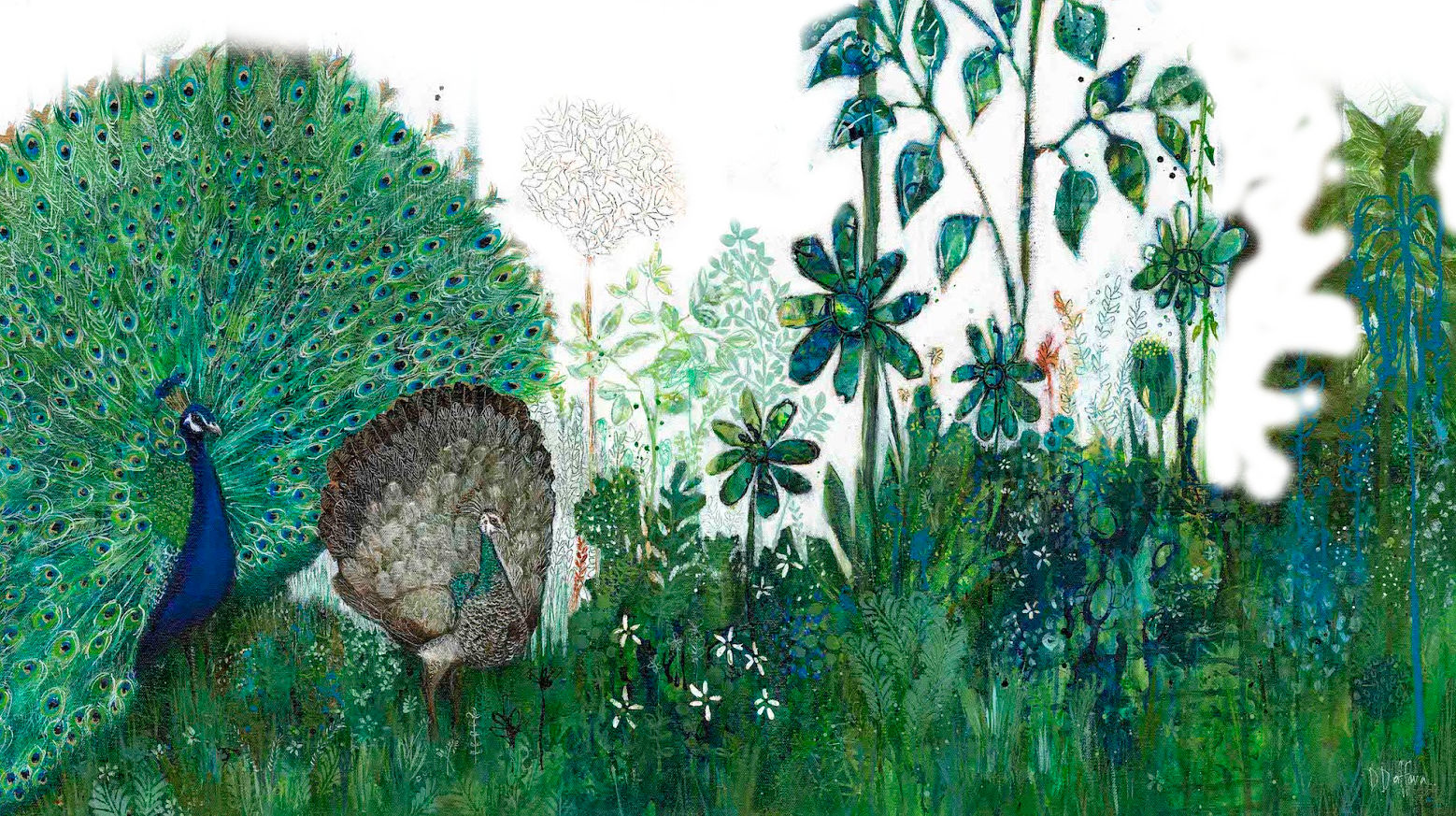 This is a gentle and transformational course
THREE STAND ALONE WORKSHOPS ARE INCLUDED PROVIDING RESOURCES YOU CAN REVISIT AND BEGIN ANEW
Holding Space for Grief using Colour - create a beautiful mini book, honouring a love, a loss, your heart (see preview in course
Paper Doll Making for Healing - at a time when words are few, these dolls speak volumes in their gentleness
Poetry Writing Workshop - Phillip will invite and guide participants to explore their own grieving/particular loss through embodied simulation.

---
Exclaimer:
This course is offered as a companion to you in your grief. and does not take the place of trained professional help.

I am not a therapist, please seek professional and or medical help if you are in trauma or deep depression, or in crisis of some kind.

All conversations, information, and resources exchanged on the Creativitea Time for Grief course as well as on any of Denise Daffara's community pages, forums, or on www.denisedaffara.com.au are intended for information, personal creative exploration and/or entertainment purposes only. The content made by Denise remains the property of Denise Daffara by copyright law.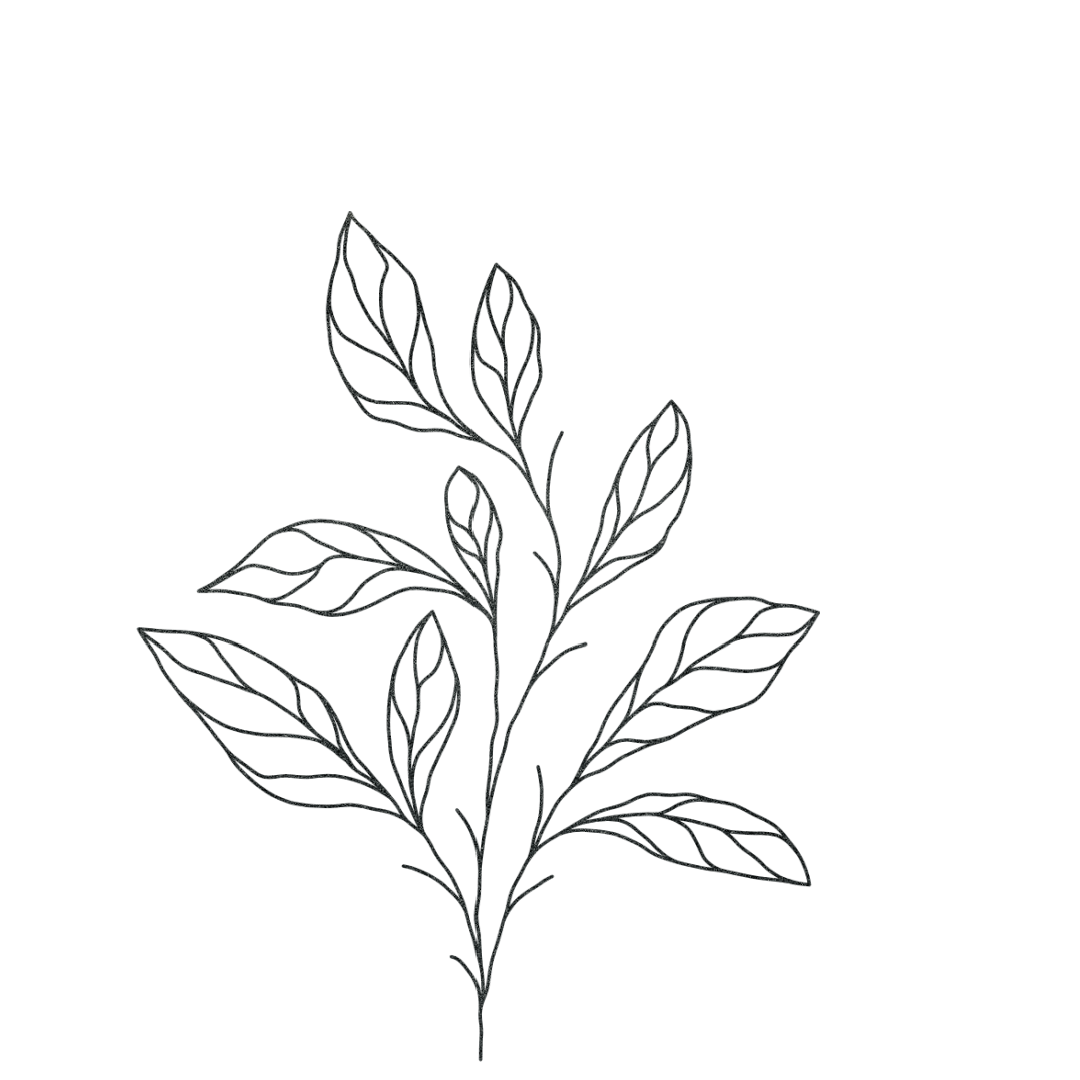 "The concept of creating a container and giving myself the space and freedom to explore new creative ways. Without any pressure to get it perfect, or right. A light hearted and fun way to learn how to tap into and express different parts of me. A space to release what no longer serves me. A nurturing and supportive environment. Most of all inspiring, encouraging, and creative."

- Louise, Sydney, Creativitea Time e-course guest
Your Instructor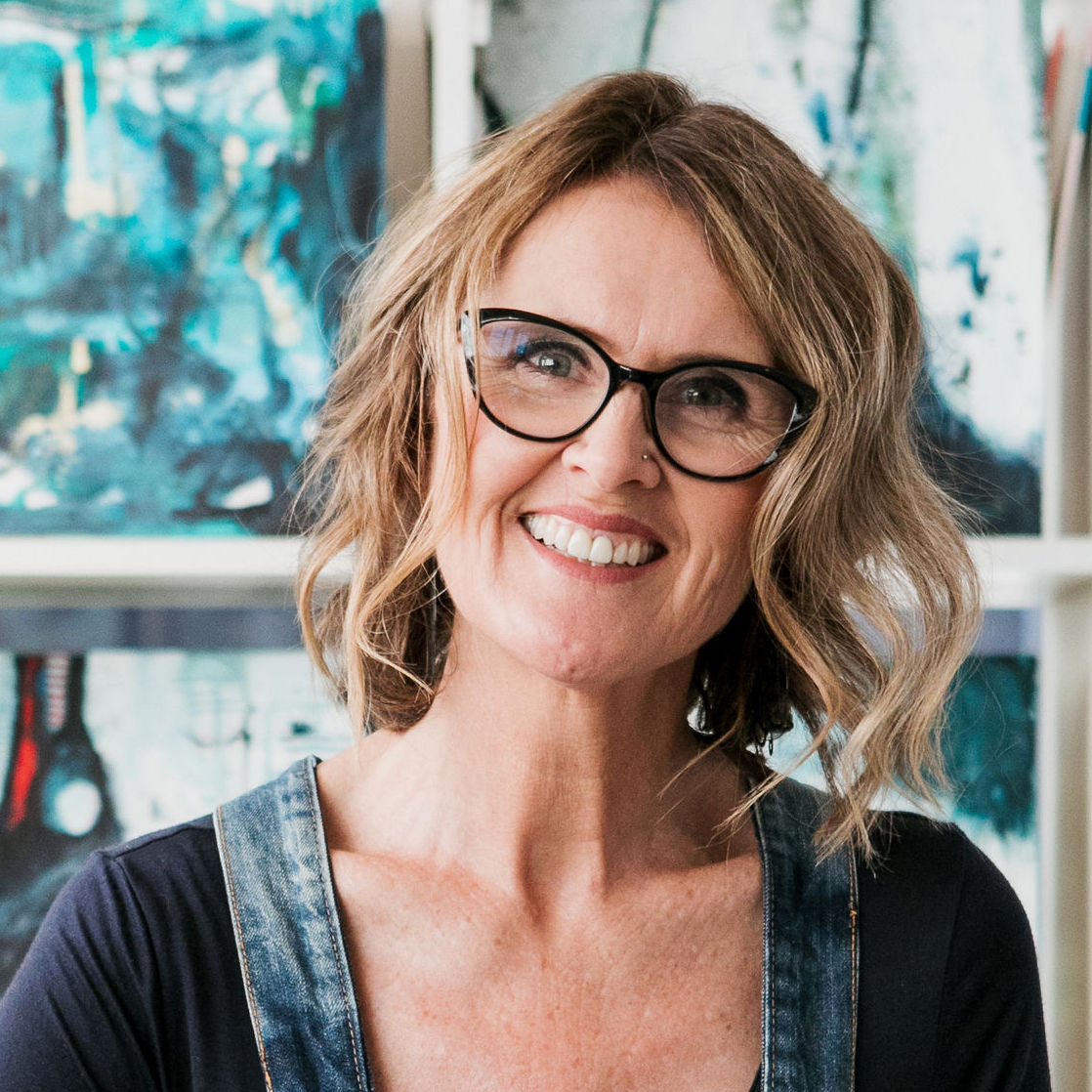 Hi, my name is Denise Daffara. I am an artist, soulful seeker, deep listener, sacred space holder, Intentional Creativity Guide & Certified Color of Woman Teacher.
My art practice is an intuitive, light and colour fuelled exploration of life's journey. Reoccurring motifs include Australian and New Zealand flora, fauna, and abstracted botanicals and landscapes.
My creativity expresses the sacred union between beauty and healing for the heart - for the artist and the viewer.
My passion is to connect with others in ways that leave us both feeling nurtured, energised, validated, and liberated.
One way I do this is by encouraging Creativitea time : a space & practice where playfulness, courage and creativity meet radical self acceptance for tea.
I believe when we are seen and heard we can heal. Using art journaling, intentional creativity and painting as a self healing modality has been extremely helpful for me in my personal quest, especially through times of grief, depression, and awakenings.
May my work be of service and support, uplift and inspire others to creatively express and lovingly nurture themselves too.
I live on the Sunshine Coast of Queensland Australia, born in New Zealand I was drawn to this vast land by it's warmer climate and stunningly beautiful pale sandy beaches. I love how we are no longer limited by our physical location and can connect with like minded hearts across lands and seas via the online communities. Perhaps we'll meet 'virtually' for tea some day, I hope so.
Course Curriculum
Making an Art Journal - Container
Available in days
days after you enroll
Activities & Resources to Bring to Your Table
Available in days
days after you enroll
Frequently Asked Questions
When does the course start and finish?
This course runs live from 8th February 2021 to 8th March 2021 with live zoom call gatherings. Several pieces will be made available upon your registration.
How long do I have access to the course?
After enrolling, you have unlimited access to this course for as long as you like - across any and all devices you own.
Why is this class listed for sale in USD?
This teachable platform is US based, and all the fees I am required to pay are in USD, so this makes it a bit easier for me. Thank you for your support.
This course is closed for enrollment.